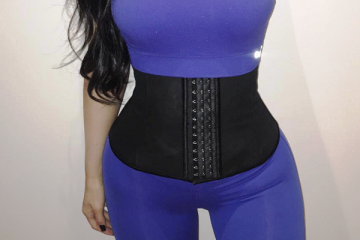 When you start looking for information on waist trainers before you buy one, you probably come across a lot of articles. Many of these are informative and mention the results you can achieve. However, some talk about the dangers of waist trainers and how they aren't safe. So, it begs the question: are waist trainers safe? You're about to find out.
Corsets vs. Waist Training Cinchers
Before you buy waist trainers for yourself, it's a good idea to familiarise yourself with what both corsets and waist trainers are, for they are quite different.
Corsets tend to have steel bones, and they feature a fabric such as leather, satin, or cotton that promote curvature of your hips and bust. The goal of corsets is to remove upwards of three inches off your waist. They sit around your midsection and encourage an hourglass curve that is slowly becoming more fashionable after losing its appeal before the 1900s.
Waist trainers, or cinchers, however, are there to provide a slimming effect. They promote a curvier waistline, but not nearly close to that of a corset. What's more, they are proving favorable during exercise, as their latex construction promotes sweating, which can lead to a more intense workout.